Audit Name: Operational Effectiveness Audit™
Purpose of the audit
Operational effectiveness is not about who you pay but about what they are doing and the results produced. The goal of effectiveness should be improved productivity (reducing your "cost per output" while not diminishing your capacity). Unfortunately, challenges in: managing staff schedules, governing staff behavior, organizing care, creating patient synergy and optimizing work processes all contribute to unhealthy relationships between revenue and labor and ultimately undermine the sustainability of most productivity and throughput initiatives.
At WRx, we provide the solutions that optimize rather than downsize your workforce, reconnecting labor spending with revenue! By first determining the root causes of labor misalignment and then implementing "people sensitive" changes, WRx is able to create and sustain permanent labor cost reductions that are backed by a $1,000,000(One Million) dollar annual bottom line guarantee.

Audit Methodology
During the Operational Effectiveness Audit™, WRx examines 9 different areas of performance:
The level of productivity
The impact of key processes on labor utilization & labor dependence
The effectiveness of scheduling practices
Staffing Levels/Staff availability
The use of Premium Pay & Agency
The flexibility & portability of the workforce
The cause of delays in care & avoidable days
The impact of policies on labor availability/waste
The impact of time-off and leave management on labor availability
The Operational Effectiveness Audit™ gathers 3 kinds of data encompassing over 1500 distinct data-points:
Quantitative data (through online data requests)
Qualitative data (through onsite interviews)
Statistically driven data (through 5 online surveys)
WRx then compares all the datasets to differentiate between correlations and root causes. We only report back on issues that have a minimum of 3 points of data redundancy. This eliminates, "chasing after cultural ghosts" and saves time in implementation.
Standard Audit Process
A standard Operational Effectiveness Audit™ consists of 7 distinct steps:
Initial data request including on-line surveys (Quantitative Information Gathering) managed through WRx client portal.
Clarification calls with client's project lead and appropriate departments
2 man days on-site visit for additional information gathering (Qualitative Information Gathering)
Perform initial recapture analysis (Quantitative Analysis)
Clarification call of preliminary findings with key stakeholders(Qualitative Analysis)
Initial presentation of reports by phone to key stakeholders (Scaling & Tuning Conversation)
Final 1 day on-site meeting to present findings and recommendations to different constituencies
A standard Operational Effectiveness Audit™ requires 7-9 weeks:
2-3 weeks for initial payroll data exchange
Followed by 1 day onsite to perform interviews, introduce the data portal and launch surveys.
The survey period typically requires 3 weeks
Followed by 10 days of off-site analytics
A "preview call" is scheduled for 4 weeks after the onsite day
A final presentation of findings & introduction to implementation meeting occurs within 2 weeks of the preview call
Audit Outputs
A Operational Effectiveness Audit™ results in the production of 3 reports:
The State of the Union report that details "why" waste is occurring
The Recapture Analysis report that details "how much waste is occurring" and "how much is recapture-able" and over what period of time (and from which sources)
The Recapture Strategy report that provides actionable recommendations for creating change sensitive progress against recapture goals
WRx follows the philosophy of, "Staying in the game" with customers. We build detailed implementation plans based on our assessment of your organizations change readiness and current systems. We create a customized roadmap built from lessons learned during implementations in over 150 other facilities. We charge a minimal 1 time fee for implementation and continue to work with a customer for a period of up to 12 months to ensure the success of both firms (although standard implementation time is 90 days).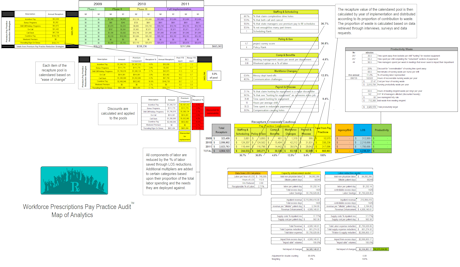 Audit Guarantee
WRx guarantees that it will identify more than $1,000,000 (one million dollars) in annually achievable reductions or provide the client with a full refund of program fees paid, less travel, lodging, meals and ancillary production costs incurred but not yet reimbursed.
Additional questions may be answered at the Operational Effectiveness Audit FAQ Page.